[VIDEO] A first site visit.
Duncan describes what we might look for when we first visit a site.
[VIDEO] GUNN and TrustedLand 'Choosing an Architect'
Duncan Gunn in conversation with Alex Harrington-Griffin from TrustedLand about choosing the right architect for the job.
[VIDEO] Race of the century?
It's silly, it's simple…but we wish we'd done it. Compelling viewing.
'Tight Sites'
This is one of what we call our 'tight sites', in Richmond. A narrow site leading to a beautiful, Victorian warehouse building at the rear. We gained consent for its change of use from offices to studio flats, and are now in the process of obtaining a full planning permission for five bespoke apartments.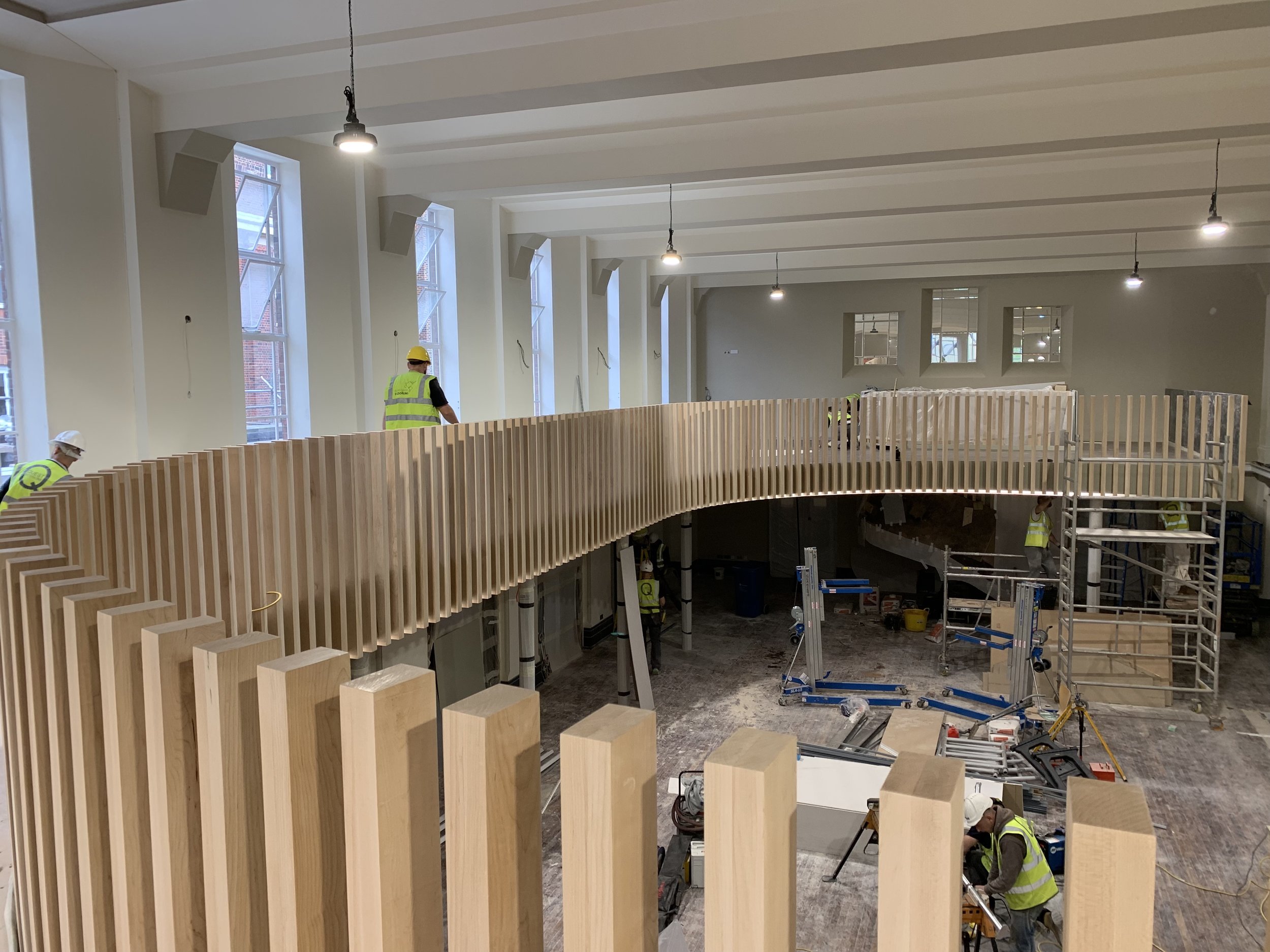 Respecting the Art Deco
Our project at Regent's University London is getting closer to completion. If you haven't seen it already, this is the new mezzanine insertion within the art deco refectory.
Massing Models
On every project we produce massing and design models as a design tool. The process is investigative and proves invaluable for us but also for our clients. This model is to show options for a significant house remodelling in west London.
[VIDEO] Hanelore speaks about Meanwhile Spaces
Today's video is from our senior project designer, Hanelore, who speaks about one of her residential projects and her research area of 'meanwhile spaces' or Policy H4 of the draft London Plan if you prefer.
PropTech
GUNN Associates were present at the world's largest cutting-edge property technology event, where we interacted with numerous new start-ups in the industry.
[VIDEO] Developers Boardroom interview on practice growth strategy
Duncan was interviewed by Developers Boardroom and asked what his growth strategy was in 2019 and beyond.
Award Season?
On 31st January, we were honoured to sponsor The Dinner by Developers Boardroom, at Grace Hall in The City of London. The guests included developers, funders, enablers, speakers, and development professionals. The food and wine was superb and the speakers, Daniel Priestly and Tony Pidgely CBE, were inspirations. To cap it all, we won two, yes two, awards; the 2018 Legacy Award for going beyond just business. and the Ambassador Award. So gongs all round!
[VIDEO] The Dinner II by Developers Boardroom
GUNN has sponsored both The Dinner I and II and on this occasion Duncan was honoured to be awarded with the Ambassador and Legacy Awards.
Contemporary townscape
Here is a view of a project that we are looking to gain planning approval with.
We have had several rounds of pre-application meetings with the local planning authority and appear to have agreed on a restrained, but appropriate new piece of townscape.
Cotswold Corner
Although not the latest design in front of the planners, it is sometimes good to show how designs progress. Over 20 flats with commercial space on the ground floor. Contextual contemporary design and an interesting piece of townscaping.
New Norwood Development
Something we are working on at the moment is this mixed-use scheme in Norwood, south London. It comprises 19 flats (10no. 1-bed, 5no. 2-bed, and 4no. 3-bed), approximately 3,000 sq.ft of commercial space, a roof-garden space, and a roof-playground space for the under-5's. The site is heavily sloping, which has helped accommodate further commercial area at the rear of the site.
The palette of materials includes brick, glazed tiles, colour-coded ceramic fins, and Pilkington's Profilit glass channels.
The development has been designed to accord with Lambeth Council's emerging development plans for the area, and has support from Lambeth Council, local businesses and Norwood Planning Assembly.
The application should be in front of committee in April.
[VIDEO] How we advise clients during turbulent times
Our very good friends at Trusted Land asked me for a few words about how we advise clients in these precarious times. They got more than a few words, I'm afraid. Our advice to clients is to become agile with their development strategies; have a good Plan B at the ready. Think differently to explore alternative options that, although perhaps out of your comfort zone, may be the best option for now. Our mantra is to exceed our clients' aspirations and agile thinking goes a long way towards this goal.
[VIDEO] Developers dinner
We were very proud to be a co-sponsor of The Dinner, held at London's M Restaurant in Victoria. The hugely successful event was held by Developers Boardroom with an auction held on the night; funds going to LandAid.
SUPPORTING LAND AID
We are very happy to announce that we are pledging 10 days pro bono work to helping Land Aid.
Land Aid is the property industry charity, working to reduce youth homelessness.
If you can help too, go to www.landaid.org .
APARTMENTS IN FULHAM
Hot off the press … two beautiful apartments in central Fulham, London.
EDGWARE CHARITY
We have been looking at the redevelopment of a pocket of land in Edgware, north London, for a local charity.
The scheme includes several flats, including those to be used by the charity, and charity offices.
UNIVERSITY SKETCHES
As part of our university masterplanning, we produce diagrams to illustrate our design intentions.
Hand-drawings are so important to us as it is often the quickest route from brain to paper.
SPACE PLANNING THE FACULTIES
Moving on from the hand-drawn sketches, we always try and provide 3D representations of our ideas.
This sketch illustrates an option for space-planning a university floor as part of a larger masterplan.
We are providing a combination of shared cellular office, open-plan, and hot-desking, with a department communal meeting area at the end.
COLOURING THE CITIES
Working with one of our repeat clients, a busy residential development company, we have been working on this multi-storey mixed-use development in south-east London.
The site is heavily sloping, and we are required to provide commercial use throughout the ground floor.
The scheme is being designed to carefully consider the daylighting amenity of neighbouring properties and to enliven this part of the main street.
SEASIDE CLUB
We hope to be involved soon with this exciting development on the south coast.
The scheme will include a members' club with residential accommodation on the upper floors and surrounding land.
An exciting opportunity for us all.
WALTHAMSTOW WONDERS
This is a lovely, family-owned, corner site in south-east London, where we hope to construct five or six flats.
As you can see, we are carefully considering the vernacular architecture and local massing.
GREEN BELT REPLACEMENT
A planning appeal is currently in progress on this exciting barn replacement in the home counties, and we have high hopes after an expected planning refusal.
We are working with Quod planning consultancy, on this privately-owned project, and are looking to help create a two-storey, family house in an idyllic setting.